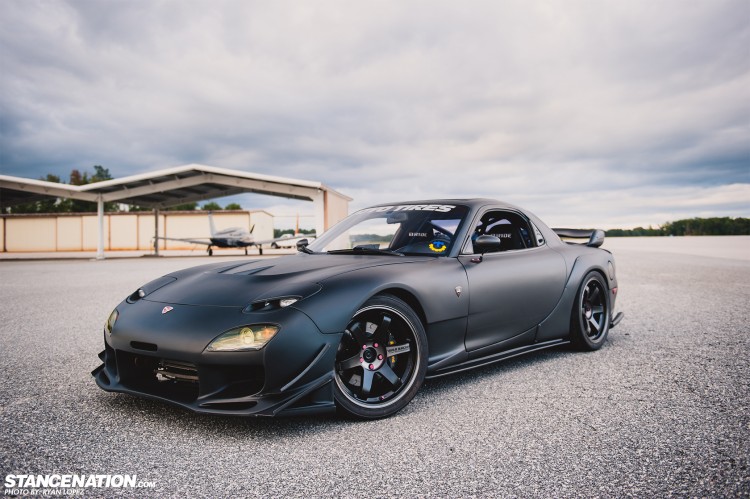 One word comes to mind when you see Phil Sohn's 1993 Mazda RX-7. SINISTER. The flat black FD stares right into your soul with its ominous eyes and whispers, "I've killed before…" The ported 13B-REW screams, "…you're next!" Okay, okay, enough of that. I don't want our readers to have any apocalyptic Mazda nightmares.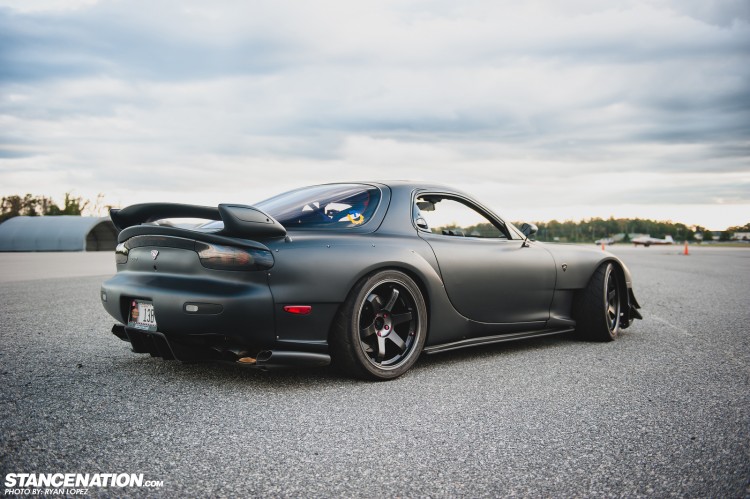 Phil is a seasoned RX-7 owner and tuner. He has owned this FD for going on 11 years. He says that he instantly fell in love with the rotary motor, and the FD RX-7, when he first saw it in 1993. He then made a promise to himself that when he had enough money to buy it, he would. In 1999, he did exactly that, and in the last 14 years he's owned over 10 Mazdas, to include his other current car, a 1973 RX-3. Phil's favorite things about the RX-7 are how they drive from the factory, their timeless look, the amount aftermarket support they receive, and that they are still an extremely competitive car on the track.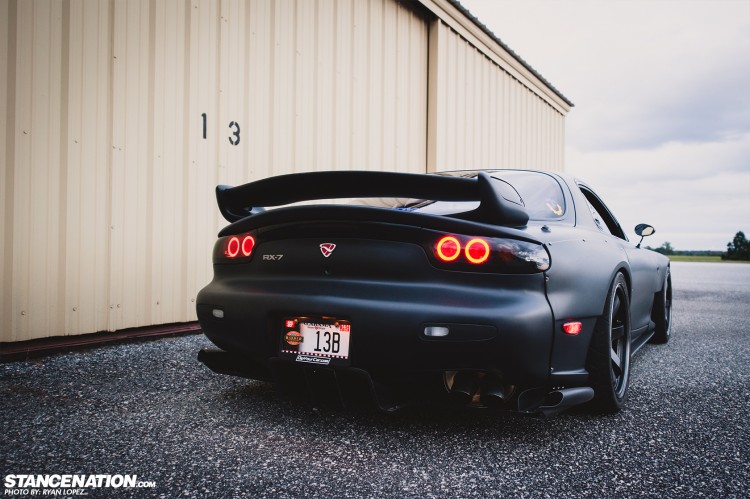 Phil loves the way these cars come from the factory, but this car couldn't be further from an OEM Touring Edition RX-7. This RX-7 has a parts list that makes War and Peace look like a short story. Phil has invested a lot of blood, sweat, tears, and 'benjamins' in this car over the past 11 years. Lucky for us, he is always changing things up to keep his love for these cars going. His next plans are to lighten the car, simplify, and to make this car into a full-blown track car.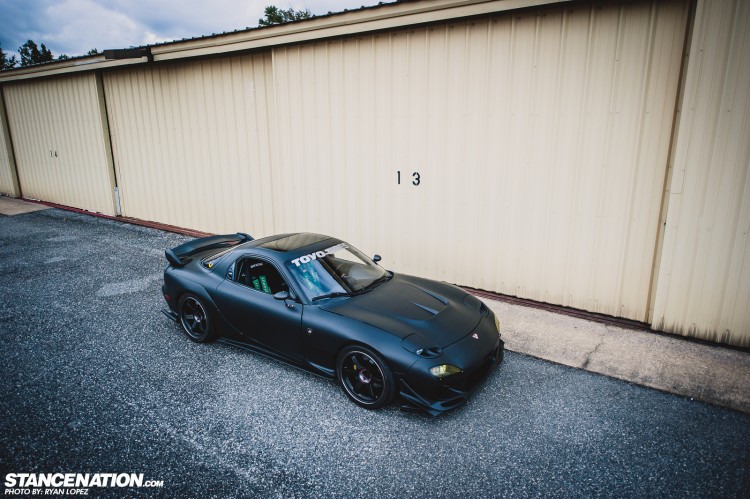 The motor of this beast is an Adaptronic ECU controlled, ported, 13B-REW. It is completely overhauled with parts that include BNR Stage 3 Twin Turbos, Koyo N-Flow Radiator, Apexi GT Spec FMIC, HKS RS intake with K&N filters, and much…much more. Nearly every part in the engine bay has been replaced and professionally polished to include (now) polished Efini Y-pipe, polished upper intake manifold, polished 90mm Rotary Works throttle body, polished GReddy elbow with injector ports, and ported/polished JDM upper intake manifold. He also welded shut all of the miscellaneous vacuum ports for an overall cleaner look.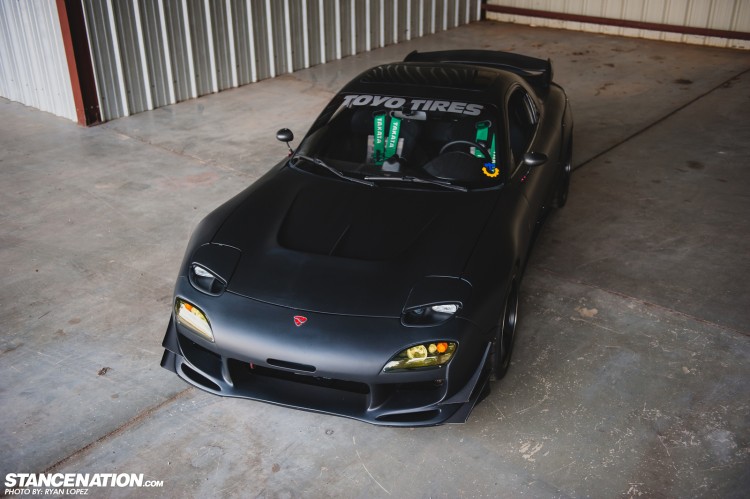 No track car is complete without proper suspension, brake, and wheel setups. Phil is running super light Rays Engineering Volk Racing TE37SLs in 18×9.5 front and 18×10.5 rear. He has wrapped them in, competition proven, Toyo R888s in 255/35 front and 295/30 rear. As far as suspension goes, Phil is running an M2 launch kit, FEED coilovers, front and rear Racing Beat sway bars, Racing Beat sway bar brace, and AutoEXE front brace to keep body roll to a minimum. He also took the time to replace every suspension bushing with new Delrin bushings. Phil also added a SakeBomb AP Racing BBK with Ferrado pads for some serious stopping power up front and Racing Brake rear brake kit with Hawk HP+ pads in the rear.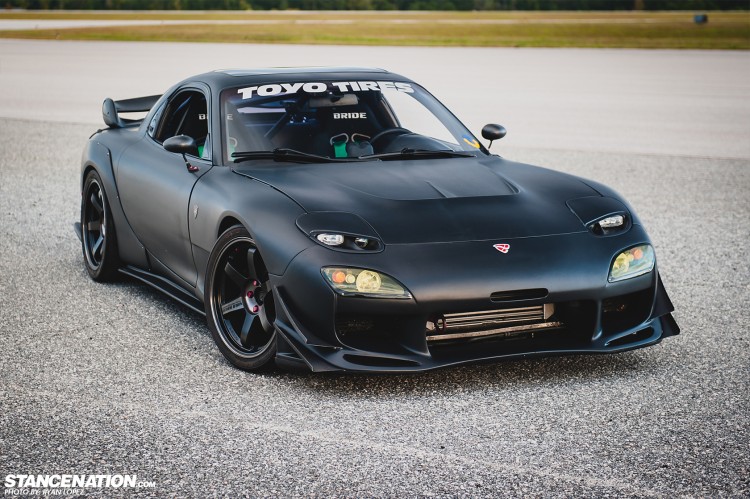 The exterior of this car is no stranger to modifications either. The car is currently Plasti-Dipped flat black and covered front to back in FEED aero. Phil is running a FEED Type 2R front bumper, FEED carbon fiber canards, FEED carbon fiber side skirts, FEED front and rear wide-body fenders, and a one-off FEED carbon fiber gas door. He is also running a RE-Amemiya Pro carbon rear diffuser and APR carbon fiber side mirrors. Those ominous eyes I previously mentioned are R-Magic HID head lights paired with HID FEED signal lights. Phil is also lucky enough to have a glass moon roof with matching interior cover.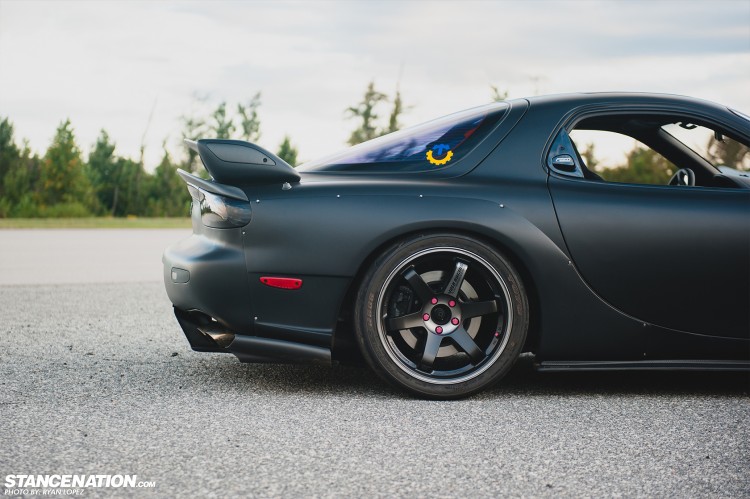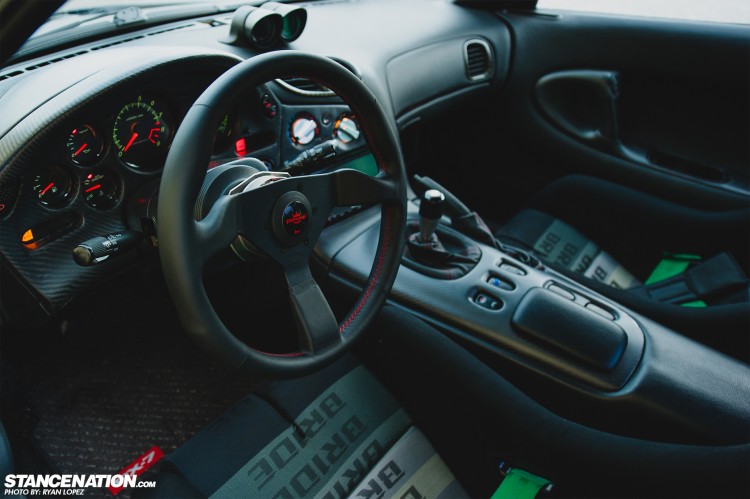 The interior of this RX-7 is equipped with Bride Artis III Navi seats, Takata harnesses, a Personal steering wheel with a Works Bell quick-disconnect and lock, RZ floor mats, carbon fiber trim, and ProSport gauges. Phil also converted the interior to all black panels, head liner, seatbelts, and carpet. He also replaced the USDM rear seats with their JDM counterparts.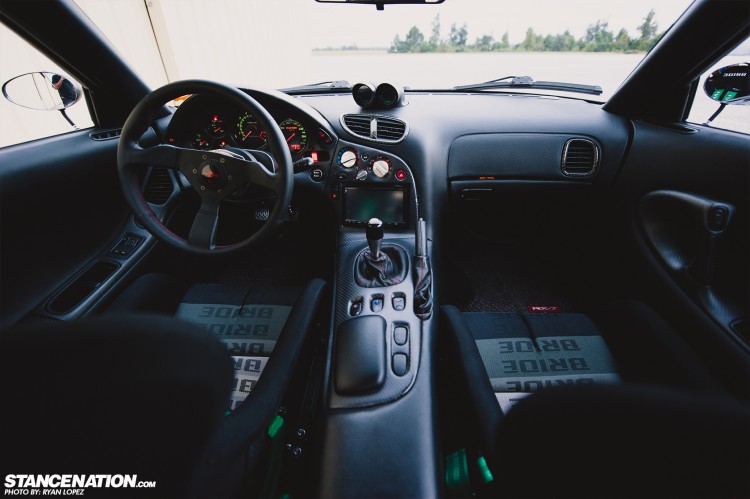 Phil would like to mention that he organizes an event called "Deals Gap Rotary Rally". This coming year is his 10th year running it. For those of you who haven't heard of it, it's a great place for rotary car owners to come together, see them run, and enjoy each other's company. He would also like to thank Stan Chen at Toyo Tires, Brad Keller at www.DipYourCar.com, Andy Wyatt at Adaptronic, Exedy Clutch, Rays Engineering, and Elliot White from Turblown.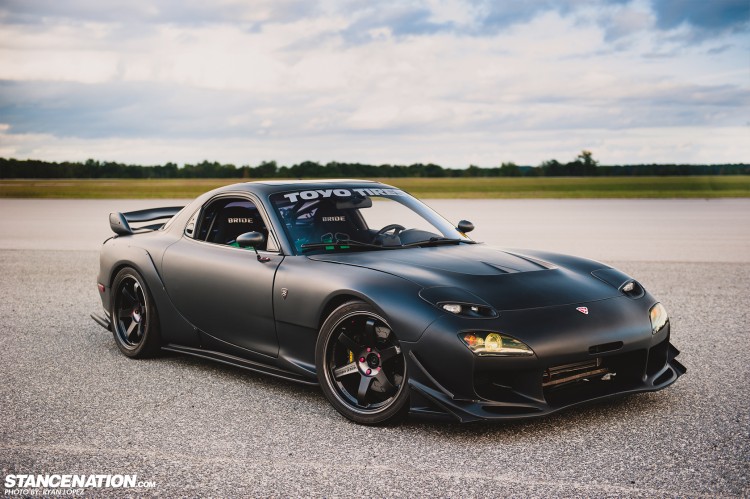 This RX-7 has seen its fair share of track days in the past 11 years, and has been through numerous wheels, colors, and setups. Phil is always tweaking and adjusting his builds and building interest in the Mazda community. We at StanceNation can't wait to see what the future holds for this RX-7 and his many others to come!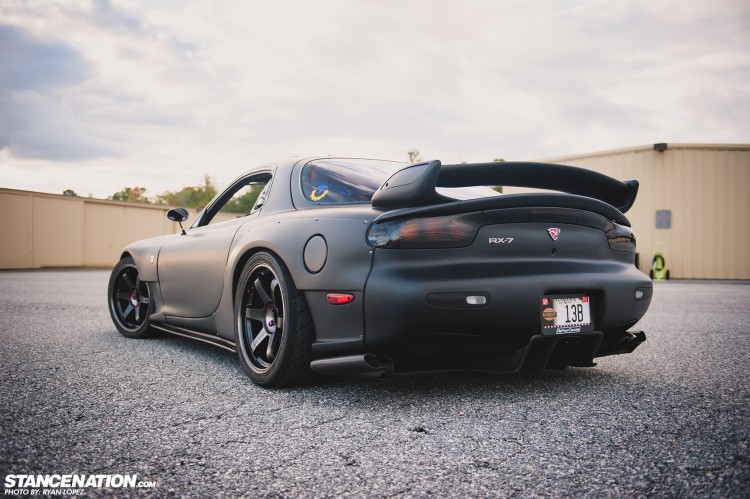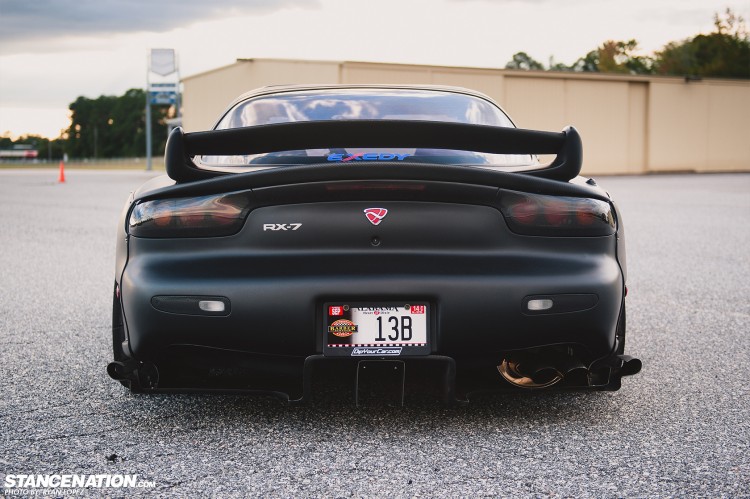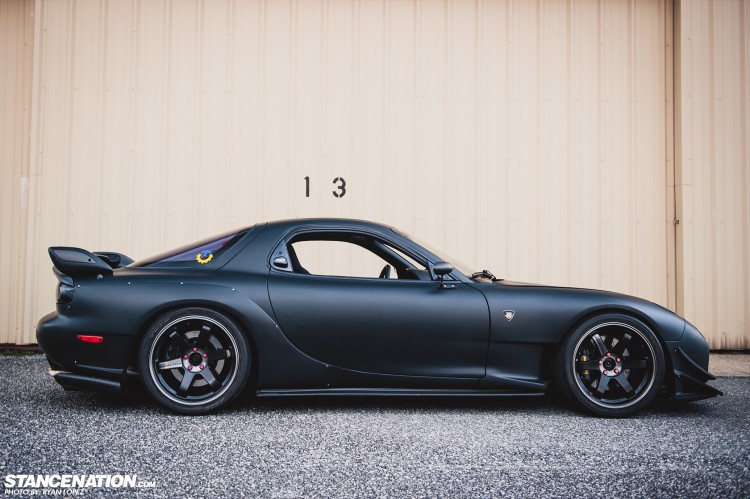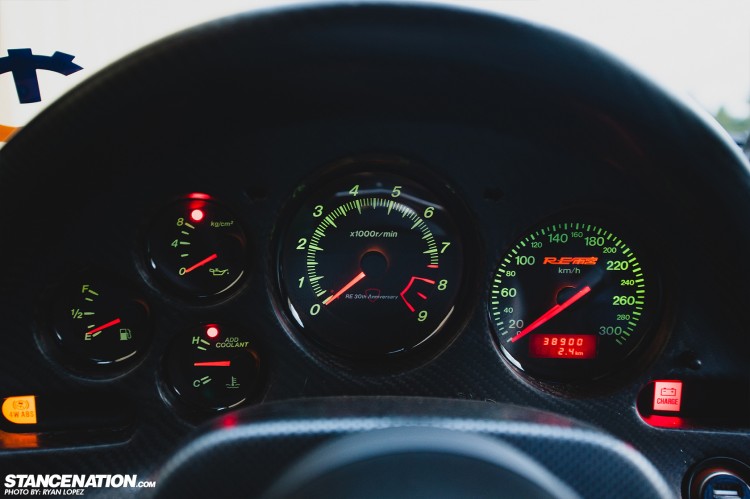 Engine:
– Adaptronic ECU for FD PNP (http://www.turblown.net/store/index.php?productID=280)
– Garfinkle Delrin Custom mounts
– Pettit Polished AST
– Koyo N-Flow Radiator
– Custom Carbon Fiber Cooling panel
– Fast acting AirTemp sensor
– Remote Start/pager/alarm/turbo timer
– BNR Stage 3 Twin Turbos
– Ported 13B-REW engine
– Custom Grounding kit
– Polished Efini Y-pipe
– Polished upper intake manifold
– Polished 90mm Rotary Works Throttle body
– Polished Greddy elbow w/injector ports
– Apexi GT Spec FMIC
– Custom polished pipings By: BNRSupercars.com
– Constant tension T-blot clamps for IC pipings and Intakes.
– HKS seq. BOV
– HKS twinpower ignition amp
– RE-Amemiya SS Dual Dolphin Tip Catback
– SS Pettit DP
– Mazdaspeed ignition wires
– FEED oil filler cap
– FEED coolant filler cap
– Added R1 Dual oil coolers
– Braille light battery
– Braille Verticle mounting kit
– Unorthodox Alternator pulley (red)
– Unorthodox Power steering pulley(blue)
– Exedy Hyper Single Clutch Kit
– Simplified seq twin set up
– Polished hardline intake pipes for secondary intake.
– Ported JDM Upper Intake manifold and polished by David Garfinkle.
– Also all the misc. vacuum ports have been welded shut and cleaned up and polished for cleaner look.
– Pettit Racing water pump pulley
– 2 x 4 blade fan set up for better cooling
– HKS RS intake with KN filters
– Tweakit Racing tensioner pulley kit
Suspension:
– M2 launch kit
– FEED coilovers
– Racing Beat sway bar brace
– Racing Beat sway bars (front and rear)
– AutoEXE front brace
– Racing Brake Rear Brake kit with HP+ pad
– Hawk HP+ pads rear
– Newly sandblasted A-arms and other suspension parts
– SakeBomb AP Racing Big Brake Kit with Ferrado pads
– Braided SS brake lines
– Racing Beat sway bushings
– New Delrin bushings for all suspension parts
– Transmission brace
– Raceshop Rollbar
– Dragon's diff brace
– Rays Engineering Volk Racing TE37SL 18×9.5 Front and 18×10.5 Rear.
– Toyo R888s 255/35 front and 295/30 rear
Interior & Stereo:
– Works Bell Short hub
– Works Bell Quick disconnect
– Works Bell hub lock
– Personal Steering wheel
– Converted Black interior – including, door panels, rear panels, head liner, seat belts, and black main carpet
– RZ floormats
– Rare moon roof interior cover
– JDM rear seats with panels, seat belts, and special rear carpet
– R1 rear speaker pods for 7 speaker system
– Prosport boost, A/F, Fuel, Boost, and Oil temp gauges
– Prosport center speaker pod
– Bride Artis III Navi
– FEED Shift knob
– Red leather stitching shift and ebrake boots
– LED interior lights
– RE-Amemiya steering column pod with 52mm Prosport boost gauge
– JKL Engineering Carbon Fiber Gauge cluster, hood AC panel, shifter,etc (Flattened look)
– JVC 7inch AV system
– RE-Amemiya speedo cluster gauge
– FEED Carbon fiber rear trunk add on.
– Base model hatch cover
– OEM fog light switch to turn FEED HID driving lights
– Carbon look oem door step
Exterior:
– Plasti Dip black exterior (www.DipYourCar.com)
– Mazdaspeed carbon hood
– AutoEXE carbon rear spoiler deck for the 99 spoiler
– One off Feed Carbon Gas door (Shine Auto)
– Feed Type 2R front bumper
– Feed Carbon fiber canards
– Feed Carbon Fiber side skirts
– Feed wide front fenders
– FEED rear wide flares
– Rotary Extreme hood dampers
– R-magic oil cooler ducts
– FEED front tow hook
– RE-Amemiya Pro Carbon rear diffuser
– Custom LED tail lights
– Custom rear bumper CF signal covers
– Rare glass moon roof
– LED signal lights in FEED signals
– HID FEED Signal lights
– Spirit R fender badges
– Efini front are rear badges
– Carbon look rear bumper lights
– Carbon fiber FEED gas door (one off made)
– APR Carbon Fiber side Mirrors
– Custom front canard add on
– Carbon Cooling panel (custom, made by me)
– LED Front bumper strips
– R-Magic HID head lights
– FEED door handles
– Carbon Fiber back of the door handle covers.
– Back Off 3rd light flasher
– ShineAuto rear tail light lip
– Feed carbon Fiber bumper guard by Shine Auto