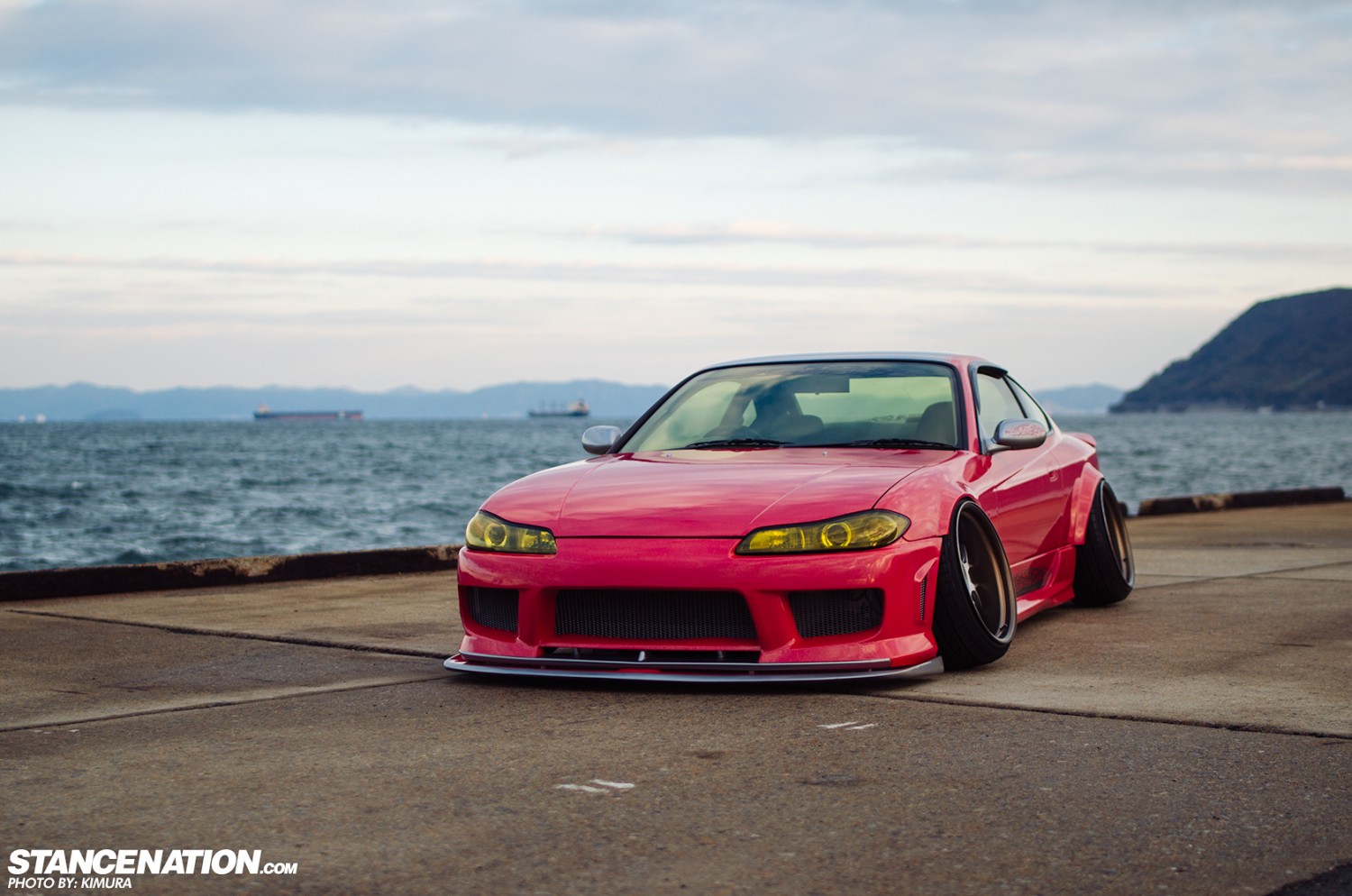 As you know, here at StanceNation.com, we feature various types of cars, hailing from all corners of the globe, spanning different oceans and continents. We pride ourselves on the quality of the build and its level of execution along with creativity and the ability to stand out and be unique. This man and build encompasses it all. In all its grace and glory, its an honor to introduce Takashi Kusunoki and his S15. After doing some research, I found out that they're both repeat offenders at StanceNation.com. (Which is a good thing!)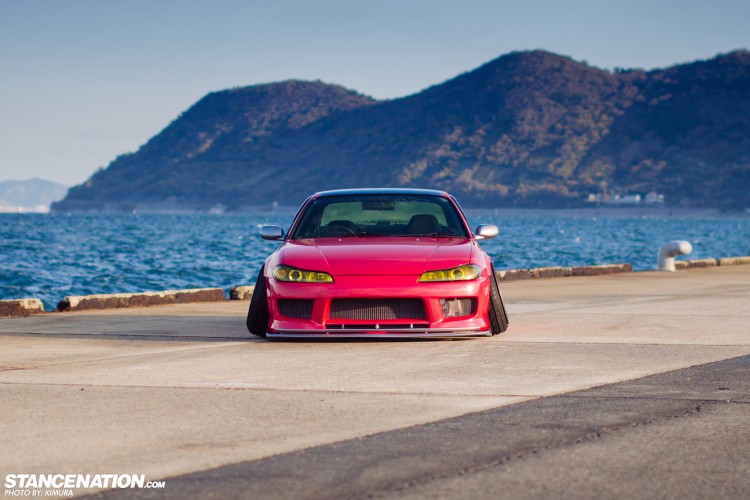 Takashi has certainly been busy since the last time we featured his S15 here.  Replacing the 326 Power aero kit is the Autech front bumper, DLK front lip and trunk spoiler, Genuine side skirts and rear diffuser which provides the car with a cleaner but definitely more aggressive look. Candy yellow headlights makes you feel like you're staring into the eyes of an animal.
Takashi's favorite things about this car would be the way this car sits and the camber. In terms of tire to fender, DLK Original coilovers and the help of overfenders give the necessary +4mm and +8mm to help accommodate the uber aggressive Work Meister M1R that come in at a whopping 18×10 -25 and 18×10 -40! In addition, the clearance to the ground is perfect and meets my philosophy for being low. If you can't see sunlight on the other side of your car from one side, you are low enough.
Now I know this build has definitely struck some chords with those more functionally inclined, as heavy camber is a sign of controversy on the never ending war of form vs. function. (Why can't we all just get along?) However, it is one of the many reasons why I love this car, which leaves many of our readers wondering why -15 degrees of camber? Takashi's answer to this question simply states "because S15!!".
Now stateside, I'm sure you're wondering about the D/L/K. It originally started out 10 years ago because of the outstanding builds by Takashi himself. D/L/K stands for Drift, Luxury, and Kusunoki, clearly showcasing the crews interests and build orientations. Now at a modest 14 cars which include R33, R34, and 180sx, D/L/K is synonymous with clean builds and beautiful cars. When asked about future plans, Takashi still has the intentions on doing a V12 swap, say whaaaaaaaat? With that said, I'll let you get your mind blown with the pictures before he does the V12 swap and causes you to make a mess of New Years.
Enjoy a few more photos that our awesome photographer Kimura snapped the night before.
Wheels/Tires/Suspension
DLK original coilovers
Rear upper arm(short ver.)
Work Meister M1R 18 inch
F:10J-25 (ATR 215/35R18)
R:10J-40(ATR 215/35R18)
Exterior
Over fender(Front +4cm,Rear +8cm)
autech bumper
DLK Original front lip
side genuine
rear under spoiler genuine
DLK original trunk spoiler
Yellow smoke glass(front,side,rear)
Body color (DLK original Pink)
Engine
Raised engine for more clearance
DLK original muffler(matte black)