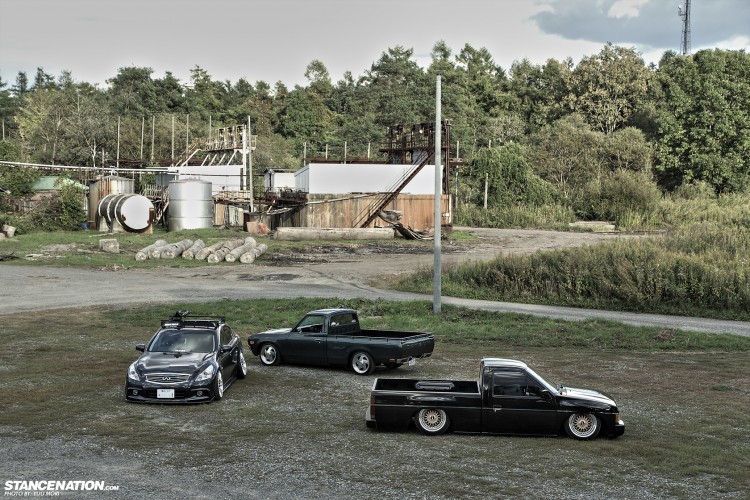 This feature here is definitely something different from what we normally bring you here at S:N.  Different is good though, and this feature is something I've been waiting to bring you all for some time.  The norm at S:N is definitely newer cars, so to have a Nissan hard-body and an old Datsun 620 pickup are a definite spike in our standard routine, but you won't hear me complaining.  In fact, I'm pretty happy to be sharing these with you all since I'm one for more of the old-school rides, and these two trucks bring me closer to my love for hot-rods and mini-trucks, of course with a Japanese flair.  Don't worry though, there's a pretty slick Skyline 350GT thrown in for good measure too.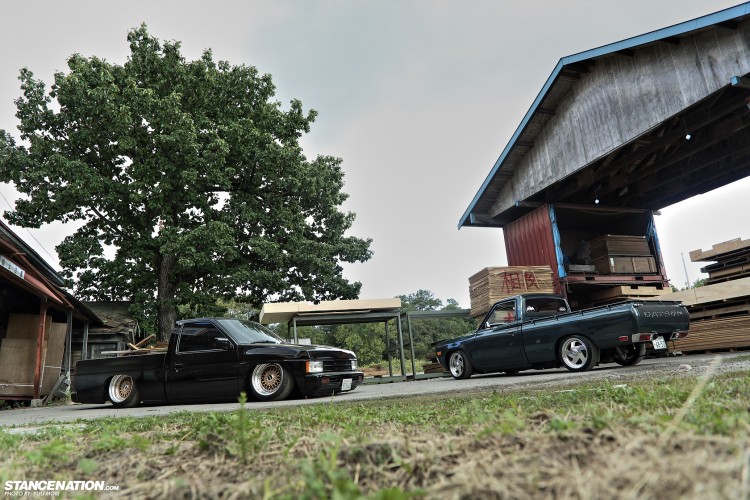 While built in the land of the rising sun, these three vehicles definitely have a heavy USDM influence.  In fact, the three owners are all big fans of the USDM style which is definitely a big movement in Japan.  I've always found it interesting that here in the US, we're always trying to pull influence from the Japanese, and over there, there's a whole segment of tuning where their influence comes from us in the US.  It goes so much deeper though in Japan as I've seen through my friends over there.  From mini-trucks to lowriders and hot-rods, Japan has big followings in all the areas, and they all do it extremely well.  The examples here are proof of that.  The level that the Japanese take their vehicles to just blows me away every time, and the quality of the builds is right up there with the best.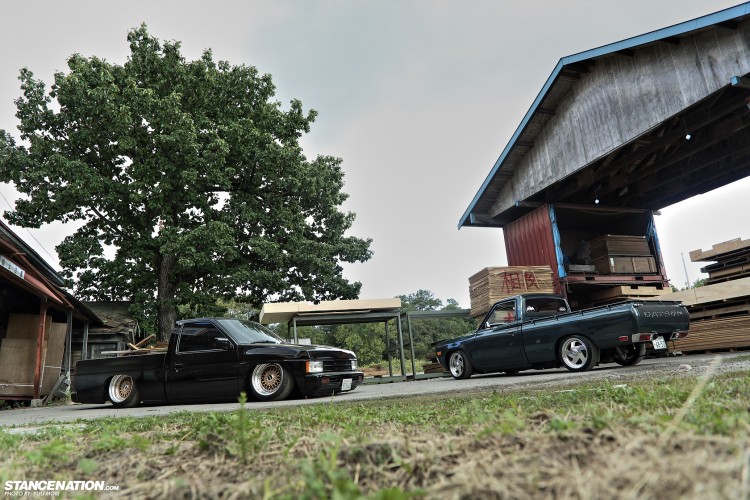 Any of these three vehicles could be at home cruising the streets of the US or Japan.  The Nissan hard-body is a classic example of a clean mini-truck; bagged and body-dropped with exquisite body work to match.  The Datsun pickup is still a work-in-progress, but when it comes to classic, Japanese metal simple does it.  The Skyline 350GT is definitely heavy with the USDM style, roof-rack and all, but the fit and finish is what we've come to expect from Japan.
We'll start with the '94 D21 hard-body.  This one is definitely my favorite of the feature (hey, I'm allowed to have favorites right?) probably because I'm a big mini-truck fan.  What I really like about this one though is how clean Sinz, the owner, has kept it.  No wild paint that is commonly associated with the mini-truck scene will be found here.  While appearing simple though, Sinz and Fakies shop have piled on the mods inside and out.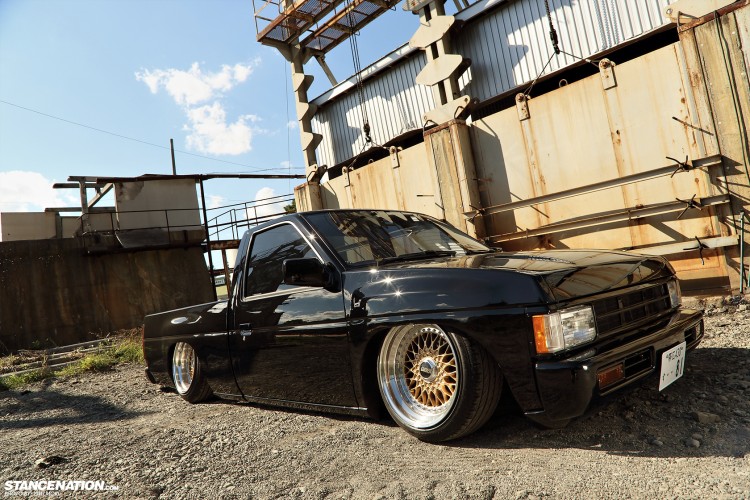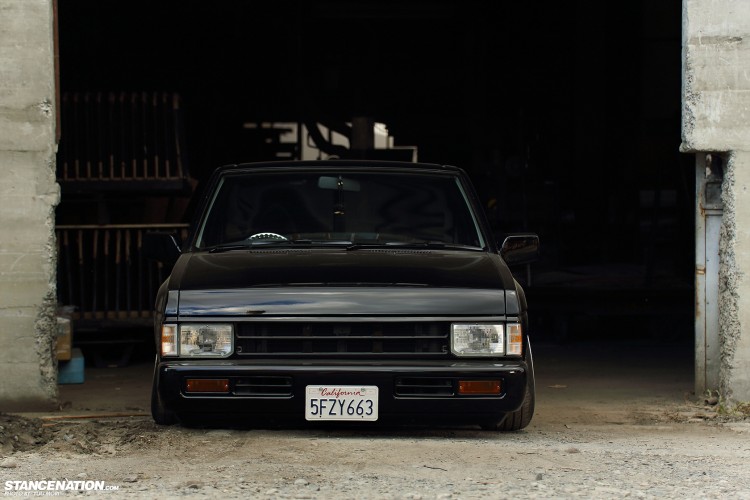 The front-end has been customized with a '97 front bumper, '86 Pathfinder headlights and grill, and 4×4 Pathfinder front fenders.  Out back, a '95 Pathfinder rear bumper has been put in place of  the original item.  Of course a classic mini-truck will have two, key mods that are consistent in the community; bags and body-dropped.  Sinz D21 lays frame thanks to a custom air setup comprised of AIM 255c bags, a single, 5-gallon tank, and two Air Zennith OB2 compressors.  Shortened front knuckles and a GC10 Skyline rear-trailing arm setup help dial in the camber which helps the wheels tuck in under the body when the truck is aired out.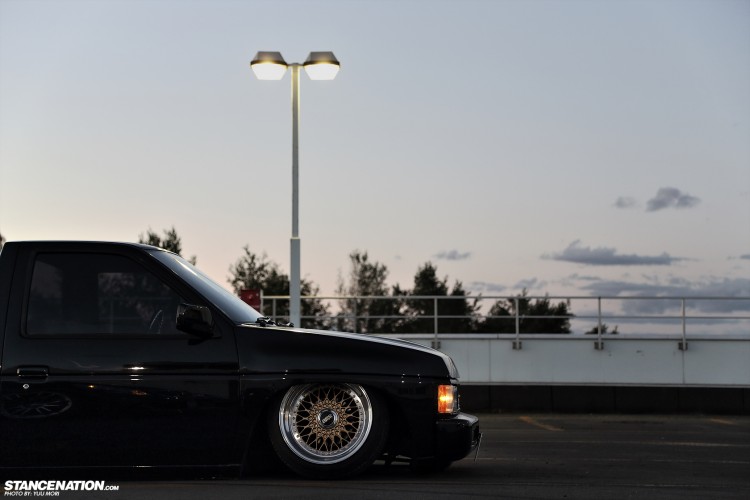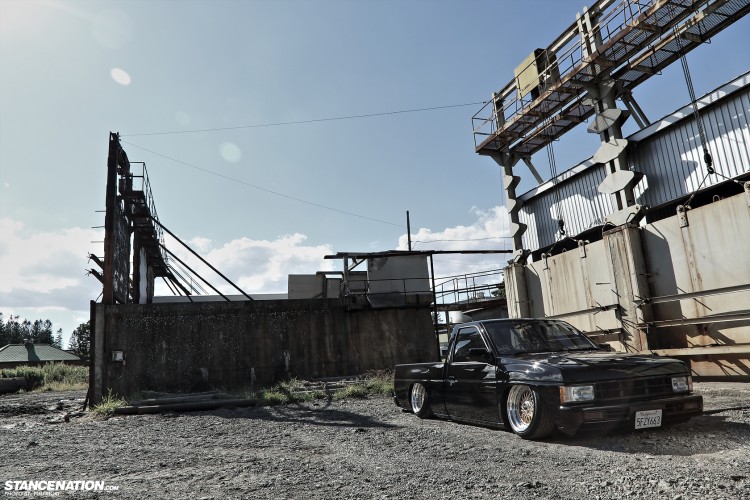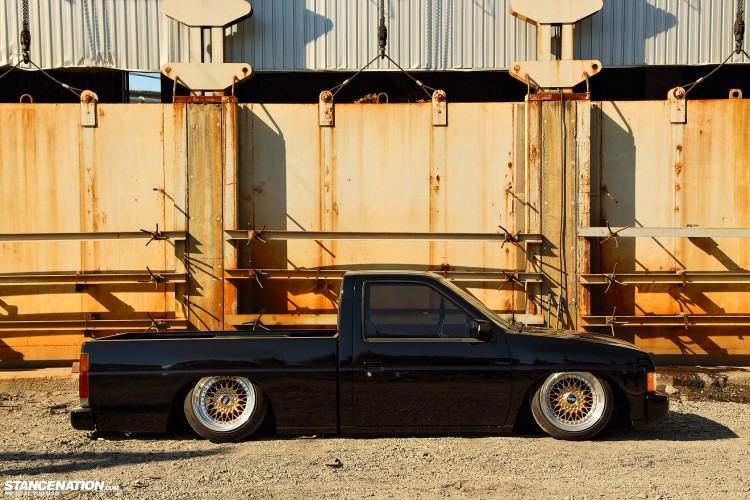 The wheels are definitely not a traditional choice when it comes to mini-truck styling.  The custom-built BBS RSs are a definite nod to the USDM influence.  Despite being the Euro wheel, the US did a good job of pretty much putting it on every car possible.  The fronts are 17×9 with 3″ lips, and 17×10 in the rear with 4″ lips.  They definitely work here though, and keep with the truck's clean and classy style.  Despite being heavily influenced by the US scene, this Nissan is distinctly Japanese in the way it is finished.  The execution is spot on, and makes for an instant classic no matter where you are.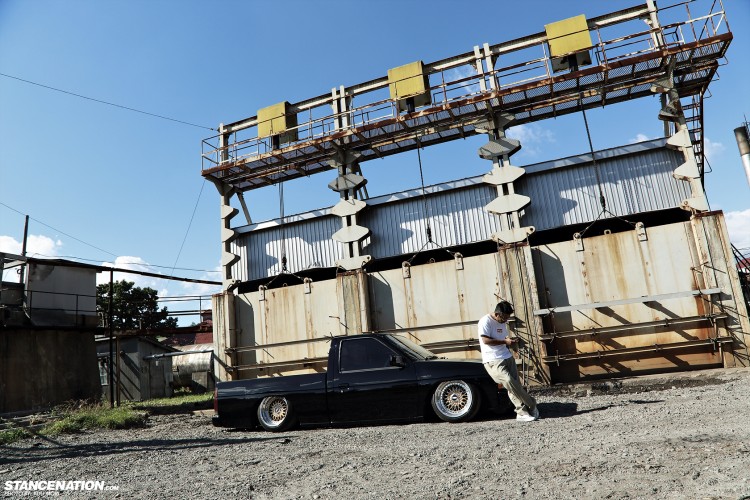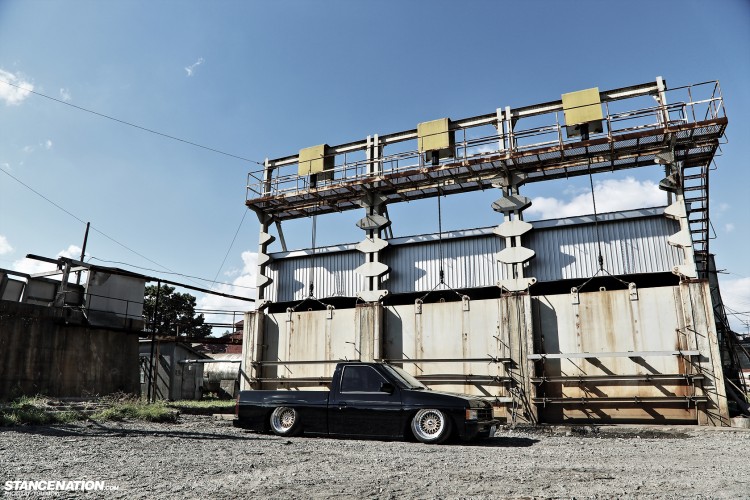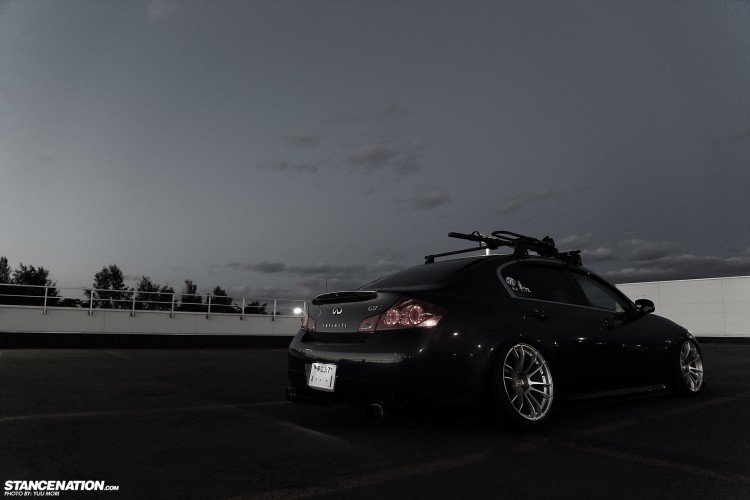 The second part of our triple-header definitely pulls his inspiration from the US stance-scene.  Yuuichirou Morikawa's Skyline 350GT is USDM style to a T; simple, slammed, lots of negative camber, stretched tires, and a roof-rack thrown in for good measure.  While it may be a So-Cal inspired stance, the execution is strictly Japanese because you won't be finding any cut springs or knock-off wheels on this build.  A fair bit of work, and an impressive list of parts have played a big part into Morikawa-san's Skyline.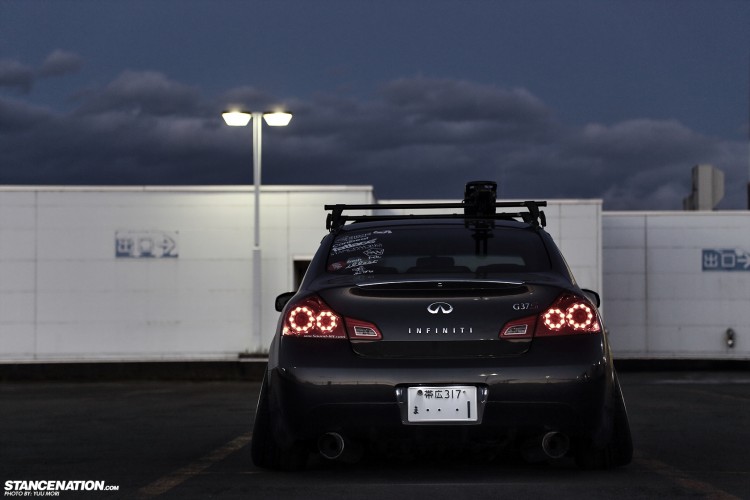 A set of coilovers from Nissho-Tire Order bring the Skyline down to ground-scraping levels while a host of adjustable arms and other suspension pieces dial in the camber for the millimeter perfect fitment.  Custom upper arms from Nissho are found on all four corners while Moonface front and rear RCAs, SPC rear lower control arms, and Tanabe under-braces round out the suspension goodies.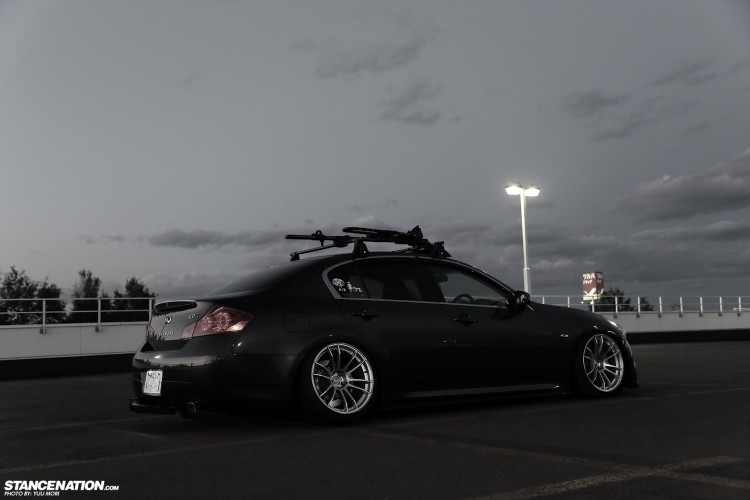 Rolling-stock has been upgraded with a set of Rays Gramlight 57Xtremes 19×10.5 +10 all around.  To bring the rears out a bit further, Morikawa-san added a 10mm spacer.  The single-piece concave look suites the sedan's sporty nature quite well which is a feature that Morikawa-san really likes about the 350GT Skyline.  I think a lot of people forget with the popularity of the GT-Rs that Nissan still produced a Skyline sedan, and the 350GT retained the sporty nature, but gave it a more luxurious package overall.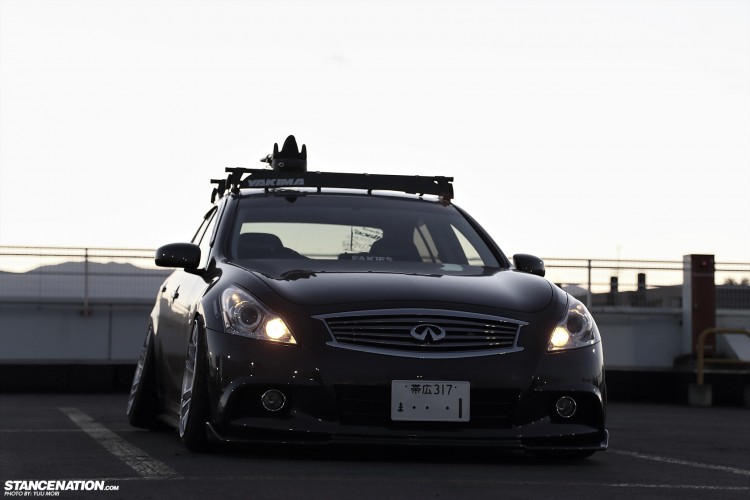 Of course with Morikawa-san being a big fan of the USDM style, his 350GT wears a lot of exterior bits from its US counterpart, the Infiniti G37 sedan.  The front bumper, headlights, tail lights, and grill have all been changed out in favor of genuine, Infiniti items imported from the US.  The car even wears the Infiniti badges.  To make the car a little more his own, Morikawa-san added EXS carbon front-lip and side-steps while a Blacktop Aero rear diffuser rounds it out.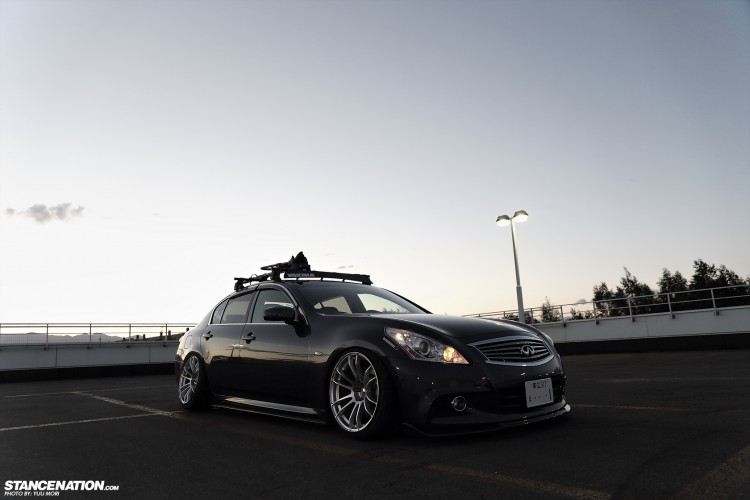 It is a bit refreshing to see a sedan in Japan that hasn't gone down the full VIP treatment.  Morikawa-san took the highlights of the USDM-style, but finished them off to a level that the Japanese have perfected over the years.  While this Skyline might be the outsider of this feature, it's still a worthy ride of sharing space with the two trucks.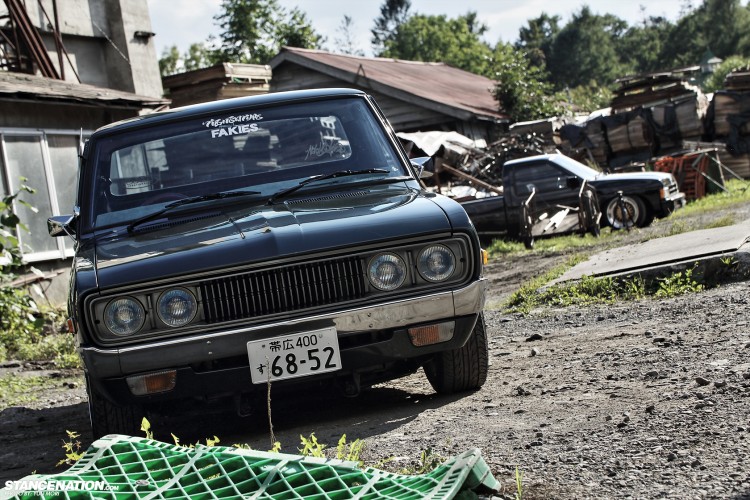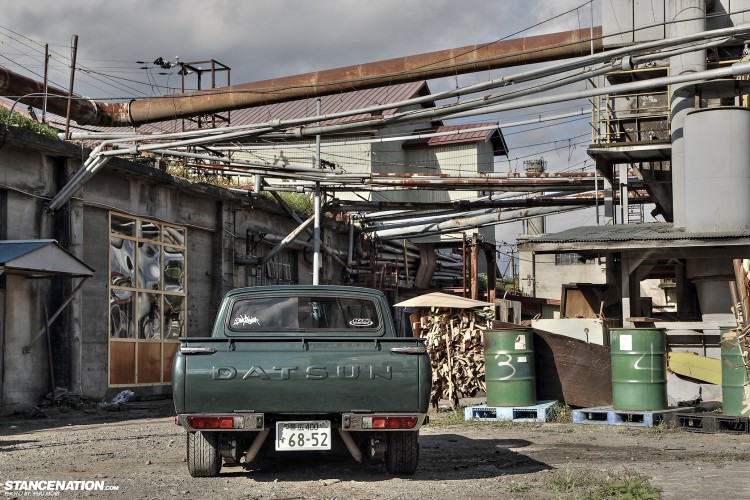 The final part of our feature is this classic Datsun 620 pickup.  I've definitely become a big sucker for classic metal over the last few years whether it's Japanese or American.  After adding a classic of my own to the garage, you just begin to appreciate when cars and trucks were more simple.  Kazuyoshi Ando's '78 620 is in pristine condition, a great example for a collector or an enthusiast.  However, unlike a collector, Ando-san doesn't plan to leave his 620 alone and put his own mark on the classic truck.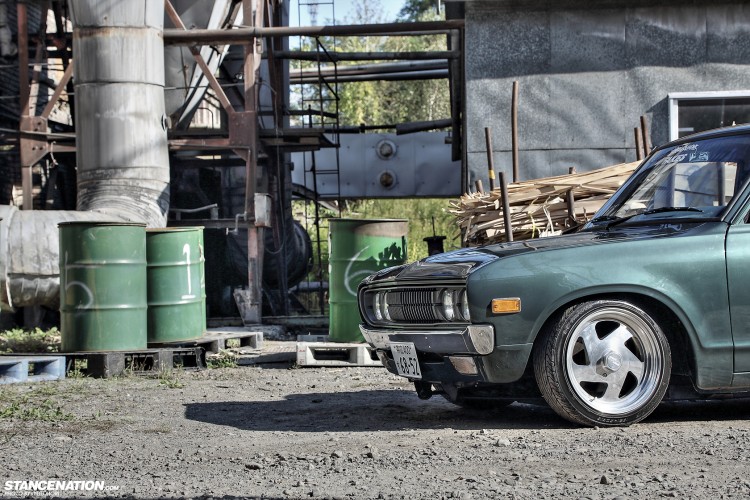 As I mentioned earlier, it's a work-in-progress, and we caught him prior to the suspension changes.  Like Sinz D21, Ando-san is planning a full air-ride setup to bring his Datsun to the ground, although it still doesn't look too bad in the photos here.  The truck is sitting on a set of classic Boyds 16″ wheels to give it that hot-rod feel.  The front and rear bumpers have been changed for US-spec items which are slightly larger, but otherwise the truck remains mostly untouched.  As with most classics, you don't need to do much to the original body-lines to make them look good.  Sometimes a healthy slam, and the right set of wheels is all that's needed.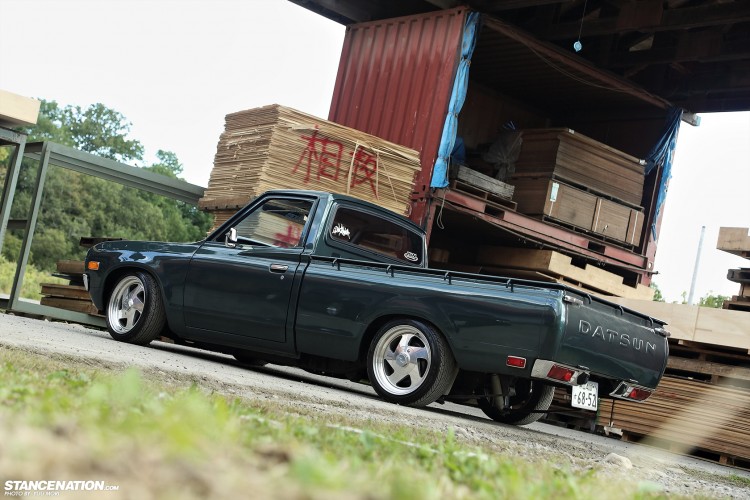 Clean and simple, and Ando-san's Datsun is most definitely that.  Even with future mods, he plans to keep it very much original, just improving on the areas where he needs to.  With Fakies shop tackling the work, they'll do a great job of it too with Sinz's Nissan hard-body being such a fine example of what they can do.  With all the work in the D21, it's still a very clean, OEM-look truck.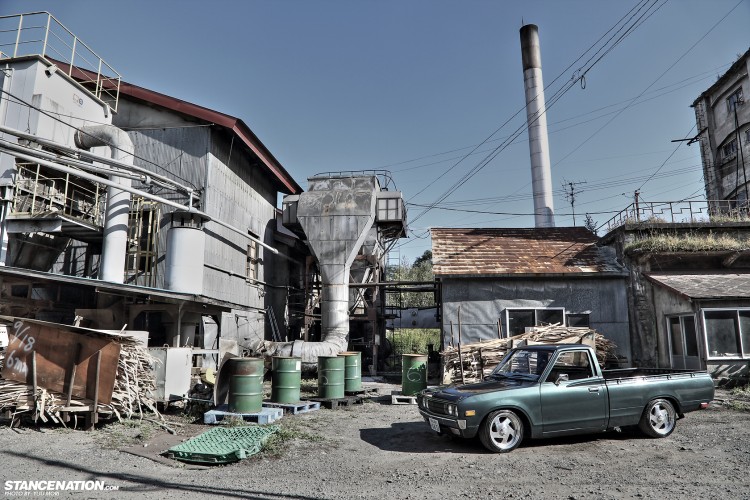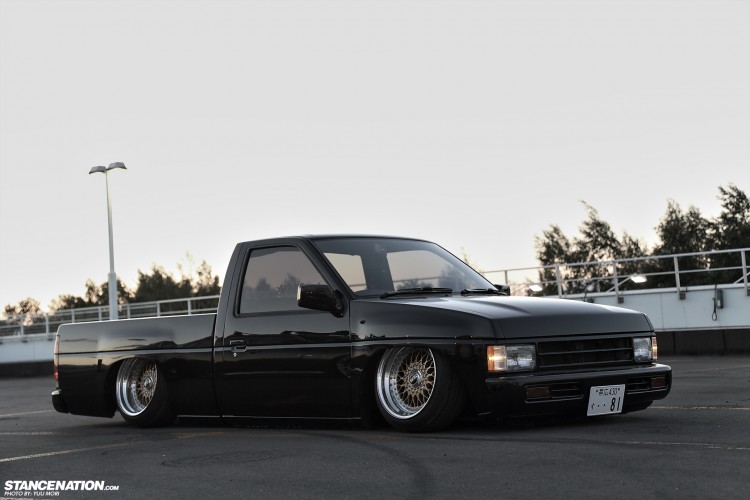 Pretty much all three of these vehicles maintain a very clean, and OEM-look about them.  Maybe for the Japanese that's what the USDM-style is all about.  While their drift cars, circuit cars, and even VIP cars all have wild aero and custom everything, they probably see something refreshing in a stock-looking car decked on a set of wheels.  It's definitely a look that is popular here in the US; take one, mundane vehicle, slam it, add wheels, done.  Of course, they take it a step further in Japan with the fit and finish.  Just take a look at coverage from any of the USDM Jam shows in Japan, and you'll begin to understand my statements.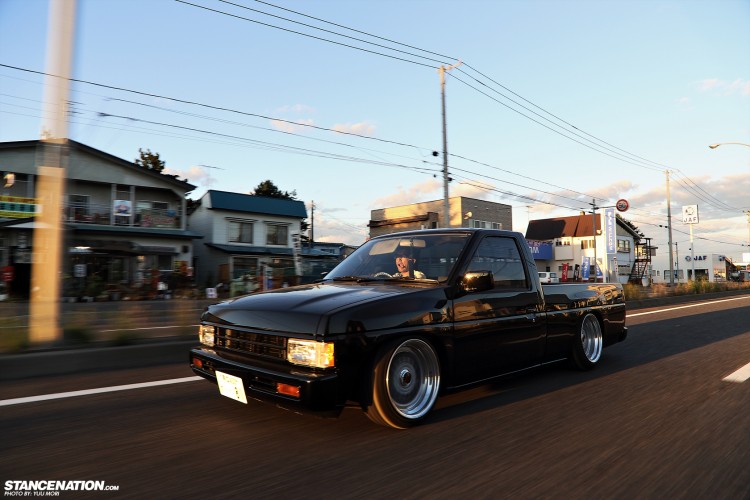 In the end though, we're all just enjoying cars.  Whether it's USDM, JDM, Euro, Cal-Look, hot-rod, lowrider, whatever, we're all in it because we love cars and expressing ourselves through them.  Even if the content of this feature is a bit different since the focus is a couple of old-school trucks, it really isn't different from any other feature because we shared with you three cool builds of owners who wanted to leave their personal touch on each of the rides.  Enjoy.